Award 2017
March 2017, Dorotée Julia Trembinski wins the Young Investigator Award at the Dutch-German Meeting of the cardiology work groups in Münster. Julia gave an excellent oral presentation about the IncRNA Sarrah that regulates cardiac function.
Dark Genome: Non-Coding RNA's in Cardiovascular Disease
Paul Dudley White Lecturer Stefanie Dimmeler, MD, PhD describes her recent work on the role of non-coding RNA's in cardiovascular disease and the progress being made towards translating that knowledge into new clinical treatments.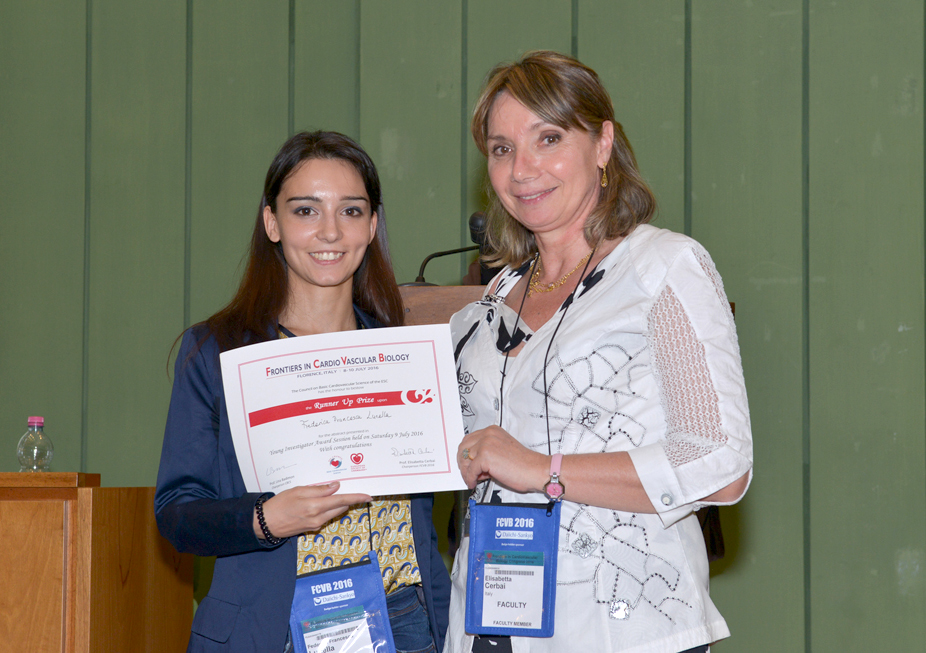 Award 2016
Federica Lunella received her award from the president of the organising committee of the FCVB (Frontiers in Cardiovascular Biology) congress, Prof Elisabetta Cerbai, in July in Florence, Italy. The FCVB biannual congress is organised by the European Society of Cardiology Council on Basic Cardiovascular Science.
Award 2015
Prof. Dr. Konstantinos Stellos has been honored with the "Young Investigator Award" of the American Heart Association's Council on Functional Genomics and Translational Biology for his translational research about the role of RNA editing in gene expression in atherosclerotic heart disease, which was presented at the annual meeting of the American Heart Association in Orlando, 8th of November 2015.
Dr. Christoph Zehendner was awarded with the "ATVB Early Career Investigator Award" of the American Heart Association during AHA Scientific Sessions in Orlando on 10th of November 2015.